Neuro-Oncology Program
Gliomas, the most common form of brain tumors of the adult CNS, originate from neuroepithelial tissue and are classified morphologically as astrocytic, oligodendroglial, ependymal, and choroid plexus tumors. Glioblastoma multiforme (grade IV astrocytoma; GBM) is one of the most aggressive forms of brain tumors and a primary area of focus for the Neurooncology Group at MSCTR.
"The broad aims of the Neuro-Oncology Program are:"
To continue the discovery effort of understanding these tumors and the dynamics of associated molecular patterns from a clinical perspective.
To develop well defined strategies, using the data that is already available, for translation to diagnostic, prognostic or therapeutic applications.
We envision implementation of the two arms in parallel, through a multi-disciplinary team effort, involving basic scientists with expertise in high throughput technologies, cell biologists, clinicians and informaticians. Embedded in these efforts will be the mission of mentoring young clinicians and research scientists who will lead MSCTR both as independent scientists and as a well-coordinated team directed towards improved neuro oncology practices. This will ensure continued institutional efforts. Gliomas, particularly Glioblastoma, are one of the most targeted tumors in clinical oncology research globally. Hence, the center will aim for networking with other national and international clinical centers in our efforts to formulate pioneering treatment models for malignant Glioblastoma.
Dr. Ravi Sirdeshmukh, Ph.D.
ravisirdeshmukh@gmail.com
Project: Dr. Ravi Sirdeshmukhholds a joint appointment as Principal Advisor, Neuro-oncology Research at MSCTR. His research interests span in the areas of protein and nucleic acid biochemistry and his earlier work included RNA processing, mRNA stability, structure-function relationship of 'ribonucleases' and their regulation. More recently his interests have been in the areas of Proteomics of gliomas – a major class of brain tumors and Head & Neck cancers. He has trained and mentored a number of young associates, Ph.D. students and post-doctoral fellows. At MSCTR, he is spearheading translational research programs in brain tumors.
Sujan Dhar
(Ph.d)
Research Scientist
sujan.dhar@ms-mf.org
Project: Dr. Sujan K Dhar (PhD in Theoretical Physics from Indian Institute of Science) heads the newly formed computation Biology program at MSCTR, MSMF. Following his passion in computation, Dr Dhar started his career as a scientist in the Supercomputer Education and Research Center (SERC) at IISc before joining the software and then the pharma-support Industry. As an entrepreneur in the pharma-support Induatry, he started working with the clinicians and got back to his initial passion of computation, now with a clinically relevant translational focus.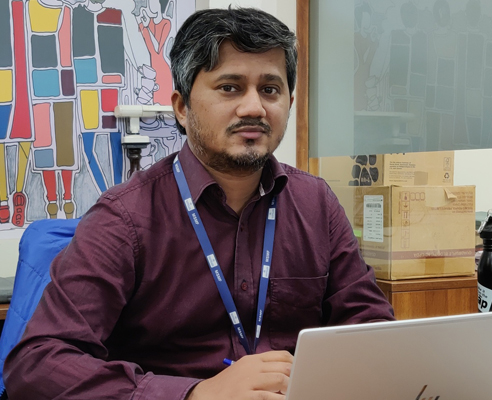 Dr Atanu Ghorai
(Ph.d)
Research Scientist
atanu@ms-mf.org
Project: Dr. Atanu Ghorai is a Research Scientist in Neuro-Oncology Program at MSCTR. By training at doctoral and post-doctoral levels, he is a sound cell biologist having almost 4 and a half years of extensive research experience in Glioblastoma therapy resistance from ACTREC, Navi Mumbai. At MSCTR, his major activity is to develop and nurture a team of dynamic minds for carrying out translational projects in Glioblastoma and other CNS tumors. His efforts are being channelized for the identification and development of novel diagnostics/prognostics and therapeutics for the treatment of patients suffering from CNS tumors. Apart from these, he is instrumental in building a collaborative atmosphere with NH Neuro Clinicians and radiation oncologists. Dr. Ghorai also serves as a bona fide member of DAC (doctoral advisory committee) for several Ph.D. students at MSCTR. 
Gouri Raj
(MSc) Junior Research Fellow
Project: Developing diagnostic panel for Gliomas
Gaurav Sahoo
(MSc) Junior Research Fellow
Project: Identification of treatment surveillance biomarkers in GBM
Athira K
(MSc)
Junior Research Fellow
Project: Studying tumor-derived immune-suppressive factors in GBM
M.V Ram Bhupal Reddy (MSc MTech, Genetic Engineering)
Senior Research Fellow (SRF, ICMR fellowship)
PhD scholar, Vellore Institute of Technology (VIT), Vellore
rambhupal.reddy@ms-mf.org
Project: 'Molecular profile specifying resistance/response to cytotoxic andtargeted chemotherapy in Head and Neck cancer'. The main aim of the study is to identifymarkers/pathway that   can   predict   response/resistance   to   a   specific   treatment, using the meta-analysis approach, and evaluate their efficacy to   improvedisease outcome in head and neck cancer using in vitro and in vivo models. The study attempts to be a step towards the development of personalizedtherapy approach in HNSCC.
Vaishnav Vasudevan
(MSc, Biomedical Genetics)
Senior Research Fellow (SRF)
Project: "Phase IIb/III study to determine the efficacy of curcumin and metformin to reduce the incidence of second primary tumours of aero-digestive tract in patients with history of head and neck squamous cell carcinoma" funded by National Cancer Grid (NCG). Also working on, profiling the expression of the EGFR/TGFß pathway and immune response in HNSCC tumours and its correlation with clinical, pathological and prognostic parameters.
Safeena Kulsum(MSc, MTech Biotechnology)
Senior Research Fellow
safeena.kulsum@ms-mf.org
Project: "Molecular signatures specifying cancer stem-like cells from oral squamous cell carcinoma and their relevance in chemo resistance" (RGYI Grant, Department of Biotechnology, Govt of India).  Project involves in re-visiting the concept of oral Cancer stem cells (CSCs) in drug resistance/ treatment failure and whether the drug-resistance CSC-markers can be explored for application in a clinical format. In addition, the strategy of targeting the CSC-fibroblast niche towards reversal of metastasis and chemo resistance in Head and Neck squamous cell carcinoma is also being investigated.
Hari P.S
Senior Research Fellow
Yogesh Pasupathy
Project Assistant
Anurag C N
Project Assistant
Chaitanya Kotyada
Senior Research Fellow
Dr. Lavanya Balakrishnan
Post Doctoral Fellow
Dr. Shivkumar B.M
Research Scientist
Manasa Ogeti
Junior Research Fellow
Chaitra B Ramesh
Project Assistant
Azin Zabihi
Junior Research Fellow
Dr. Arivusudar Everad John
Research Scientist
Raksha Ganesh
Senior Research Fellow
Pranali Sonpatki
Senior Research Fellow
Divya Naik
Senior Research Fellow
Darshat Shah
Senior Research Fellow
Rathijit Mallick
Junior Research Fellow
Dr Nameeta Shah
Principal Investigator
Dr Anjana Muralidharan P (BDS, MDS Oral & Maxillofacial Pathology)
Clinical Trial Co-ordinator
Project: Working on a project titled, "Phase IIb/III study to determine the efficacy of curcumin and metformin to reduce the incidence of second primary tumors of aero-digestive tract in patients with history of head and neck squamous cell carcinoma". The project is a clinical trial funded by National Cancer Grid (NCG
N Reddy Harsha Vardhan(MSc MTech, Genetic Engineering)
Senior Research Fellow
Project: Program Support in Head and Neck Oncology (DBT, Govt of India). The study aims to address a major need for developing integrated, pathway based approach to determine treatment resistance/response for laryngo-pharyngeal cancer, which is one of the major cancers in India. An integrated approach to explore the genome, transcriptome and proteome of tissues and the body fluids is the strategy employed in the project. Also working on the "Detection of Metastasis in early stage cancer patients based on Circulating tumour cell profile" that involves enumeration/characterization of Circulating Tumor Cells (CTCs) at a cellular/molecular level, their correlation with prognosis, as an initial step towards identifying potential markers that can enable their clinical application.
Dr ShaliniSubramanyan MDS
KRISHNADEVARAYA COLLEGE OF DENTAL SCIENCES AND HOSPITAL, BANGALORE
Internship (6 months)
Project: THE SALIVARY ANALYSIS OF TELOMERASE LEVELS IN ORAL SQUAMOUS CELL CARCINOMA PATIENTS
Dr Nandini Mohan (MDS)
AECS MAARUTI COLLEGE OF DENTAL SCIENCES AND RESEARCH CENTRE, Bangalore
Internship (6 months)
Project: EXPRESSION OF BETA HUMAN CHORIONIC GONADOTROPIN IN SERUM AND TISSUE SECTIONS OF PREOPERATIVE ORAL SQUAMOUS CELL CARCINOMA PATIENTS
Ms. P. AMSAVALLI (B Tech Biotechnology)
Anna University, Chennai
Internship (3 months)
Project: DETECTION OF CIRCULATING TUMOUR CELLS USING CANCER STEM CELL MARKERS AND CORRELATION WITH METASTASIS IN HEAD AND NECK CANCER
Ms. S.R.SARANYA (B Tech Biotechnology)
Anna University, Chennai
Internship (3 months)
Project: DETECTION OF CIRCULATING TUMOUR CELLS USING CANCER STEM CELL MARKERS AND CORRELATION WITH METASTASIS IN HEAD AND NECK CANCER
Ms. UtkarshaPaithane, B.Tech + M.Tech Biotechnology
Amity University, Noida
Internship (3 months)
Project: Estimation of circulating DNA and correlation with metastasis in patients with head and neck squamous cell carcinoma
Short-term Interns
Ms RenukaRamanathan (X), Mr Anand Rao Tadipatri (Class Xth), Pradyumna Rao: Class XIIth
Ganesh RA, Sonpatki P, Naik D, John AE, Sathe G, Lakshmikantha A, Chandrachari KP, Bauer L, Knäuper V, Aeschlimann D, Venkatraaman K, Shah N, Sirdeshmukh R. Multi-Omics Analysis of Glioblastoma and Glioblastoma Cell Line: Molecular Insights Into the Functional Role of GPR56 and TG2 in Mesenchymal Transition. Frontiers in Oncology (2022) 12:841890 [IF- 5.738]

Hari PS, Balakrishnan L, Kotyada C, John AE, Tiwary S, Shah N, Sirdeshmukh R. Proteogenomic Analysis of Breast Cancer Transcriptomic and Proteomic Data, Using De Novo Transcript Assembly: Genome-Wide Identification of Novel Peptides and Clinical Implications. Mol Cell Proteomics (2022) 21(4) 100220 [IF- 7.381]

Shah N, Hallur PM, Ganesh RA, Sonpatki P, Naik D, Chandrachari KP, Puchalski RB, Chaubey A. Gelatin methacrylate hydrogels culture model for glioblastoma cells enriches for mesenchymal-like state and models interactions with immune cells. Scientific Reports (2021) 11:17727 [IF- 4.996]

Raghavan JV, Ganesh RA, Sonpatki P, Naik D, John AE, Arunachalam P, Shah D, Hari PS, Lakshmikantha A, Pillai S, Chandrachari KP, Mariswamappa K, Lale S, Shah N, Jhunjhunwala S. Immuno-phenotyping of IDH-mutant grade 3 astrocytoma and IDH-wildtype glioblastoma reveals specific differences in cells of myeloid origin. Oncoimmunology (2021), 10(1):1957215 [IF- 7.723]

Sonpatki P and Shah N. Recursive Consensus Clustering for novel subtype discovery from transcriptome data. Scientific Reports (2020), 10:11005 [IF- 4.996]

Ganesh RA, Venkataraman K, Sirdeshmukh R. GPR56: An Adhesion GPCR Involved in Brain Development, Neurological Disorders and Cancer. Brain Research (2020), 1747: 147055 [IF- 3.610]

Khened M, Anand VK, Acharya G, Shah N, Krishnamurthi G. 3D convolution neural networks for molecular subtype prediction in glioblastoma multiforme. Proceedings of the SPIE, Volume 10954, id. 1095413 7 pp. (2019); doi: 10.1117/12.2512417.

Gupta MK, Polisetty RV, Sharma R, Ganesh RA, Gowda H, Purohit AK, Ankathi P, Prasad K, Mariswamappa K, Lakshmikantha A, Uppin MS, Sundaram C, Gautam P, Sirdeshmukh R. Altered transcriptional regulatory proteins in glioblastoma and YBX1 as a potential regulator of tumor invasion. Scientific Reports (2019), 9(1):10986 [IF- 4.996]

Puchalski, R. B, Shah N. et al. An anatomic transcriptional atlas of human glioblastoma. Science (2018), 360(6389): 660-663 [IF- 63.714]

Jayaram S, Balakrishnan L, Singh M, Zabihi A, Ganesh RA, Mangalaparthi KK, Sonpatki P, Gupta MK, Amaresha CB, Prasad K, Mariswamappa K, Pillai S, Lakshmikantha A, Shah N, Sirdeshmukh R. Identification of a Novel Splice Variant of Neural Cell Adhesion Molecule in Glioblastoma Through Proteogenomics Analysis. OMICS A Journal of Integrative Biology (2018), 22(6):437-448 [IF- 3.978]

Sirdeshmukh R, Jayaram S, Gupta MK, Sonpatki P, Singh M, Ganesh RA, Amaresha CB, Shah N. Integration of transcriptomic and proteomic data for disease insights. In Current Proteomic Approaches Applied to Brain Function (Neuromethods) (2017); doi: 10.1007/978-1-4939-7119-0_20. [Book Chapter]

Jayaram S, Gupta MK, Raju R, Gautam P, Sirdeshmukh R. Multi-Omics Data Integration and Mapping of Altered Kinases to Pathways Reveal Gonadotropin Hormone Signaling in Glioblastoma. OMICS A Journal of Integrative Biology (2016), 20(12):736-746 [IF- 3.978]

Polisetty RV, Gautam P, Gupta MK, Sharma R, Gowda H, Renu D, Shivakumar BM, Lakshmikantha A, Mariswamappa K, Ankathi P, Purohit AK, Uppin MS, Sundaram C, Sirdeshmukh R. Microsomal membrane proteome of low grade diffuse astrocytomas: Differentially expressed proteins and candidate surveillance biomarkers. Scientific Reports (2016), 6:26882 [IF- 4.996]

Sirdeshmukh R. India and the Quest Towards Human Proteome. J Proteins and Proteomics (2016), 7(1), MTT 1.

Gupta MK, Jayaram S, Reddy DN, Polisetty RV, Sirdeshmukh R. Transcriptomic and Proteomic data integration and 2D molecular maps with regulatory and functional linkages: Application to Cell Proliferation and Invasion Networks in Glioblastoma. J Proteome Res (2015), 14, 12, 5017–5027 [IF- 5.370]

Sirdeshmukh R. Indian proteomics efforts and human proteome project. J Proteomics (2015), 127(Pt A):147-51 [IF- 3.855]

Sivadasan P, Gupta MK, Sathe GJ, Balakrishnan L, Palit P, Gowda H, Suresh A, Kuriakose MA, Sirdeshmukh R. Human salivary proteome - a resource of potential biomarkers for oral cancer. J Proteomics (2015), 127(Pt A):89-95 [IF- 3.855]

Sivadasan P, Gupta MK, Sathe GJ, Balakrishnan L, Palit P, Gowda H, Suresh A, Kuriakose MA, Sirdeshmukh R. Data from human salivary proteome - A resource of potential biomarkers for oral cancer. Data Brief (2015), 4:374-8.

Jayaram S, Gupta MK, Shivakumar BM, Ghatge M, Sharma A, Vangala RK, Sirdeshmukh R. Insights from Chromosome-Centric Mapping of Disease-Associated Genes: Chromosome 12 Perspective. J Proteome Res (2015), 14(9):3432-40 [IF- 5.370]

Daswani B, Gupta MK, Gavali S, Desai M, Sathe GJ, Patil A, Parte P, Sirdeshmukh R, Khatkhatay MI. Monocyte Proteomics Reveals Involvement of Phosphorylated HSP27 in the Pathogenesis of Osteoporosis. Dis Markers (2015), 2015:196589 [IF- 3.464]

Sirdeshmukh R, Somasundaram K, Zingde SM. Cancer proteomics in India. Nature India (2015), doi:10.1038/nindia.2015.119.

Sirdeshmukh R, Zingde SM, Dharmalingam K, Vijayalakshmi MA. Bench to bedside: Still a pipedream? Nature India (2015), doi:10.1038/nindia.2015.113.

Jayaram S, Gupta MK, Polisetty RV, Cho WCS, Sirdeshmukh R. Towards developing biomarkers for glioblastoma multiforme: a proteomics view. Expert Rev. Proteomics (2014), 11(5), 621–639 [IF- 4.250]